fba.cafe blog – create your future
amazing selling machine review and faq – a guide on how to sell on amazon
The economic situation in the world has led to the growth of an online money making industry that grows every single second of the day. With the entrance of the Amazing Selling Machine Course on the Amazon playing field, a lot of people saw an opportunity to make money online and were looking for the right course. There are only a very few that are worth your money. Amazing Selling Machine (ASM) is one of those courses and this post is all about ASM and our review based on using the course and the data ourselves in our company.
This is not going to be a short post. It will be extensive and the first part will be about the course itself. It will also have a FAQ section where we answer the most common questions people have about Amazing Selling Machine. And we conclude with a plea from us to change your life and go all out to create a new future. And we will be there to help you out. But now, first things first. Let's give you the necessary disclaimer.
Amazing Selling Machine Disclaimer
Any member's results on this page may not be typical. ASM members joining between 2013-2016 who completed the program and launched a new brand had median annual revenue of $60,750.00. Further, This page contains one or more affiliate links. If you click one of these links, you are taken to a page that contains a product that we endorse, for the simple reason that we work with it ourselves and/or have identified it as a valuable product or resource that we want to recommend to our readers. If you buy such a product through the link on this page, we will receive a commission from the owner and we want you to be aware of that. And yep, we gotta eat too! 🙂 
Contents
(Click the link to jump to the content.)
Now that we get the disclaimer out of the way, let's talk about this course. Because let's face it, when you are reading this stuff right now, you want to change something in your life for the better but you want to know what you are getting yourself into, right? Whatever the situation that you are in, you want to move forward in life and get the financial freedom and the freedom of location so many people on this planet only dream of. But let's also be blunt: Amazing Selling Machine is a course and system that is not for the lazy among us. It takes work. It is fun, but in the beginning, it is working hard to get your business going.
What is Amazing Selling Machine (ASM)?
The Amazing Selling Machine course is a course that is developed by Matt Clark and Jason Katzenback, the founders of Amazing.com. It is the market leader when it comes to courses that teach an individual to sell Private Label products on Amazon and the founders claim their students have done 8.6 billion dollars in sales using their course. Since that claim is a while ago, it is probably close to 10 billion dollars now.
The latest version of Amazing Selling Machine (the course is updated all the time) has more than 42 hours of video content, numerous PDF files to download with instructions and additional data to support the video content, as well as recorded live chats (weekly strategy calls). In other words, it is massive. (And that is what you may expect from a course in that price range.)
So let's take a thorough look at the course and its modules and extras. It all starts with logging in at Amazing.com. And when you log in for the first time, this is your dashboard (see below).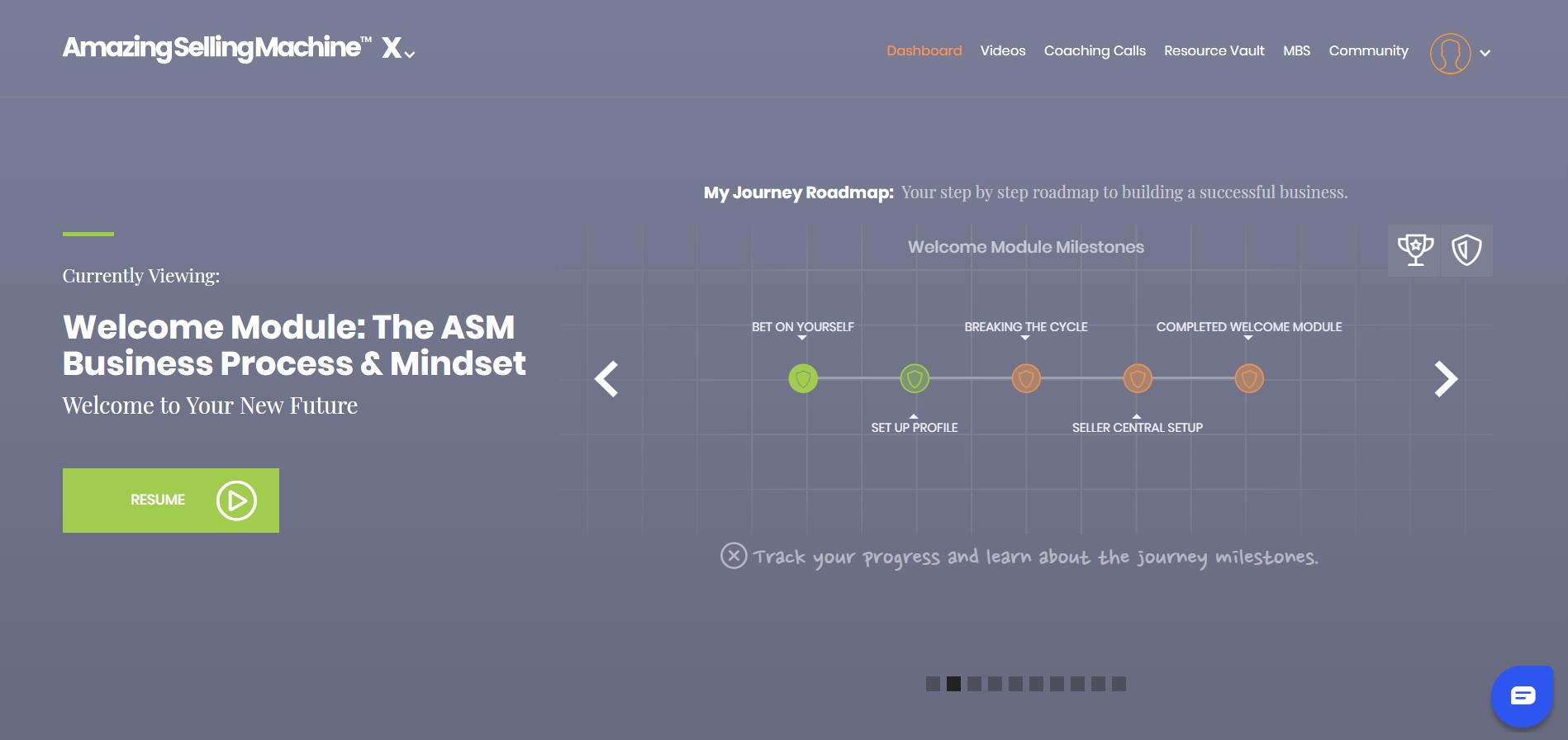 The Amazing Selling Machine Dashboard with the timeline
In the dashboard, you will see that in the menu bar, you have the options to go directly to all videos, coaching calls, to the resource vault, to ManageByStats (a statistical program that keeps track of your business) and to their huge community of like-minded people that purchased and use ASM. Central in the dashboard there is a timeline which keeps track of your progress on the course. The timeline in the middle is a sort of tracking device that keeps an eye on where you are at the course and what you did. 
Amazing Selling Machine's Welcome Module
ASM starts with the Welcome Module as the beginning of your journey to owning your own brand online. It is not just saying "Hi." This module is quite extensive and contains almost 2.5 hours of video content in 21 short lessons. Though a welcome section that long might sound a little overdone, it is laying the solid foundation of your business in a very methodical way. 
From introducing you to the ASM community to the principle of success, from deciding which marketplace to start with (there are Amazon marketplaces all over the globe, but usually people start with the USA marketplace, for the simple reason it is the biggest one), to a walkthrough of Seller Central (the Amazon dashboard for sellers), all these short videos serve a purpose: setting you up for the real meat of the course in the other 8 modules and additional lessons.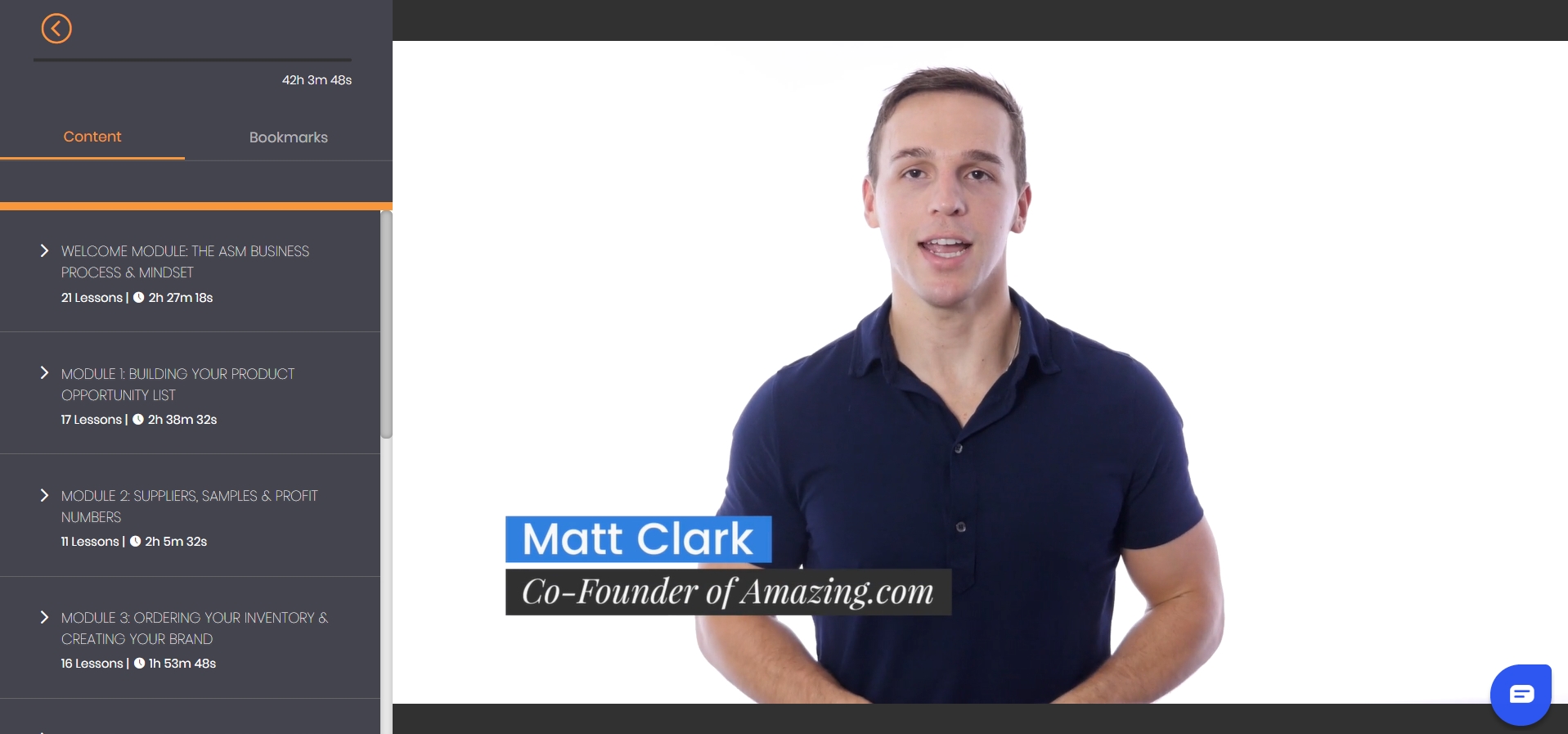 Matt Clarke in the Welcome Video of Amazing Selling Machine
The Amazing Selling Machine Modules
Besides the aforementioned Welcome Module, the course consists of 8 more Modules and 16 additional lessons that are in 2 separate categories: Company growth and coaching calls. The subjects of the 8 modules are the following:
Module 1: Building Your Product Opportunity List
Module 2: Suppliers, Samples and Profit Numbers
Module 3: Ordering Your Inventory and Creating Your Brand
Module 4: Building Your Brand Assets
Module 5: The Perfect Product Page
Module 6: The Perfect Product Launch
Module 7: Advanced Marketing and Traffic Tools
Module 8: Taking Your Business to the Next Level
Let's take a closer look at these modules and what is in them.
ASM Module 1
 Module 1 consists of 17 lessons that vary from "The 7 elements of a profitable product" to the categories you should choose for your first product and which categories to avoid. The lessons are delivered by co-creators Mike McClary and Rich Henderson. In 2 hours and 38 minutes of video, they take you through all the aspects of choosing a product to sell, what tools you can use and what criteria you should keep in mind when doing so. 
We went three times through this module ourselves and we had 2 of our staff doing the same and compared results after. When you come to the end of the module you know everything there is to know about the chosen product, the competition, patents, trademarks, etc. Module 1 is, in fact, the basis of your new Amazon company.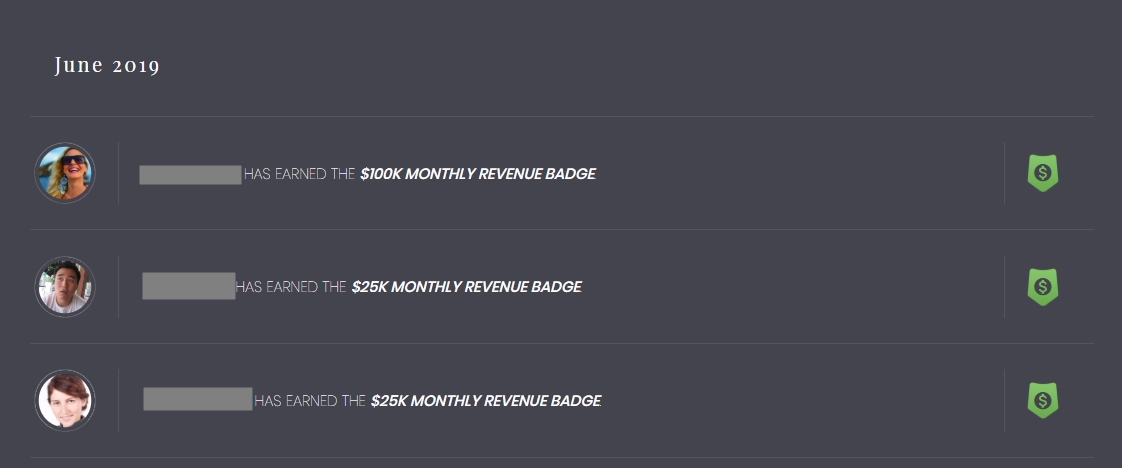 ASM works with badges. They list lots of people that earned specific badges in a month.
ASM Module 2
In module 2 you will learn all there is to know about Amazon's fees, suppliers (mainly based in Asia), samples that you get from those suppliers, creating your online presence and finding out about the true costs and profit numbers of your product. This is the module where you will learn how to deal with suppliers and how you create a web presence using LinkedIn, Alibaba, Facebook, and a website.
One little note of critique here is they advise to build a website with Wix because it is "free." However, Wix is not free and can be more expensive than hosting your own WordPress website, as we have described in a post which you can read here. This module consists of 11 lessons and is a bit over 2 hours long.
ASM Module 3
 In Module 3 you will learn more about how to order your inventory and how to really create your brand. Here is where the fun starts! Now you have really found your product and have approved your samples and now you start preparing to get your products sent to a Amazon FBA Warehouse in your marketplace (usually the USA, but could be another market like Japan, Spain, Germany, UK, etc.).
They dive deep into creating your brand and talk about what you do after your samples arrived, how to choose the best supplier, what the brand name process entails, how to create and get a logo produced, getting your UPC codes, packaging, building your listing (basically your product page on Amazon), shipping by air or by sea and much more.
ASM Module 4
Module 4 is all about the brand assets, in other words, actually creating your Facebook page, actually building your website (again, see our note earlier, there are better solutions than they give here in my opinion), creating your Twitter account, your YouTube Channel and your Pinterest account.
This module also has videos about the domain name for the brand, autoresponders (these are basically messages set to go out automatically after someone decides to subscribe to your mailing list), and creating and implementing your lead capture page. If you want to know more about lead capture pages, here is a good post which will clarify that subject which also has a great short video explaining how to deal with them.
A slider with some ads used by Amazing Selling Machine to get new customers.
ASM Module 5
In Module 5 of ASM, they teach you all about the perfect product page, or as they call it, the PPP! Narrator Rich Henderson takes you through "How to craft the perfect Amazon listing" and continue with lessons about strategic keyword research, building your keyword list, creating the right title of your listing that attracts traffic (hungry buyers that is), etc.
Module 5 ends with lessons on automating customers emails and the use of a software called ManageByStats, which is a program they advise to use to keep track of all your sales data. Although we do not use this program ourselves, we understand why they recommend it. It seems to be a professional program and there are quite some good reviews online.
ASM Module 6
 By the time you get to this module, you will learn everything there is to know about the perfect product launch. The launch of a first product on Amazon is of vital importance. Many people that start with Private Label put in their hard earned cash in their business, so this module is all about paying real good attention. It is almost 4 hours long and has 12 video lessons.
In this module they cover the very first FBA shipment, the importance of attention attracting product images, getting product reviews with your launch, and a procedure they call "Launch, Blitz & Rank." They end off with a lesson about what to do after you did your launch and as usual they end of the module with a coaching call.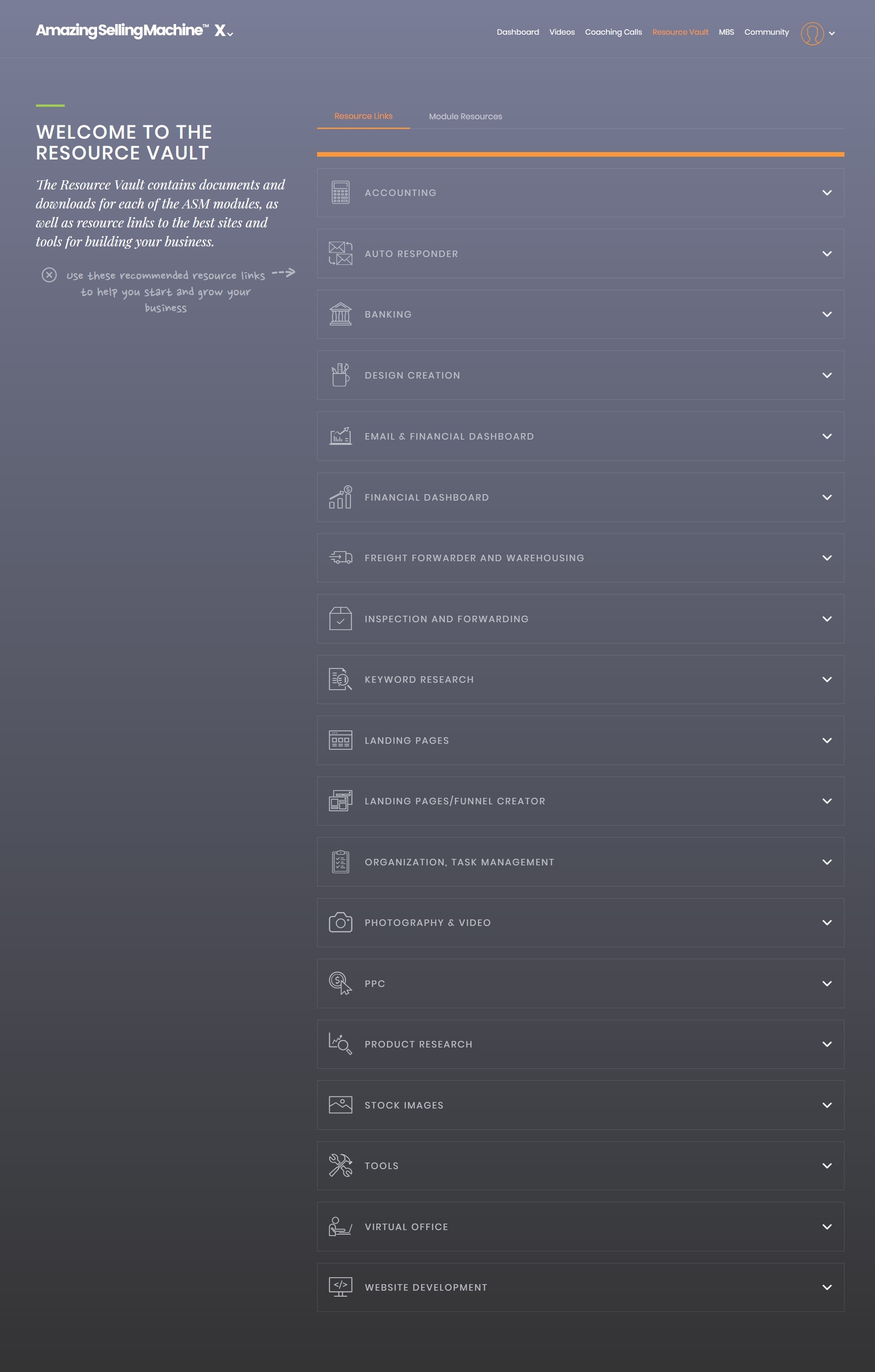 The Resource Vault of ASM is filled with a lot of great tools (although many must be paid for).
ASM Module 7
By the time you reach this module and you have been implementing all the steps of the previous modules while you move along, you are now ready for the advanced marketing and traffic tools module. This is the most extensive module of them all: over 4 hours of video content with accompanying PDFs. You will learn everything there is to know about sponsored product ads, coupons, lightning deals, promotions, and more about traffic and conversions.
An important part of this module is the video about brand registry, which is important if you want to succeed on Amazon with your business. If you don't register your brand, you will find out soon that others will hijack your product listing and all your work will have been in vain. So, this is an important module and packed with stuff that you need to make sure you constantly expand in your Amazon business.
ASM Module 8
The last module is all about taking your business to the next level. You started your Amazon business, it is running now, you deal with it on a daily basis and now what? Well, you have to keep your inventory up to date, you need to choose the next product and need to find out when to launch it, and so on. This module is about making your business a success and grow.
The two major subjects in this module are building a team for your business (we can help you with that as well, just so you know) and how to keep your cash flow alive when you deal with shipping products that can take months if your product has to come from China or another country in Asia. The module ends with a long coaching call of close to 2 hours.
Additional Materials in ASM
There are two additional modules that deal with some specific subjects. The first of these modules is all about branding for growth, next level branding and an exclusive brand coaching and Q&A session that is almost 1.5 hours long. This is the advanced stuff about building and expanding your brand for the long term.
The last part is a separate module mainly with interviews under the heading of supplementary lessons and calls. They kick off with a 35-minute call with the founders, Matt Clarke and Jason Katzenback, who give a little motivational speech. Then there are several interviews with people like yourself that are selling on Amazon and build their own brand. These are actually refreshing because these interviews are clearly not scripted and have a lot of good data in them.
The additional materials keep growing with monthly coaching calls that are being added to the course all the time.
ASM Recommended Tools + Websites
The Amazing Selling Machine is not a course that is "complete." What we mean with that is, that it is the guide to selling on Amazon and it contains a lot of data that you will have to learn. However, when doing the procedures and steps laid out in the Amazing Selling Machine, you will also need additional (mostly paid) tools, templates and software like JungleScout, Helium 10, a website template, web hosting, accounting software, recommendations about photography and pictures (we think this guy is even better), a virtual office setup, and so on.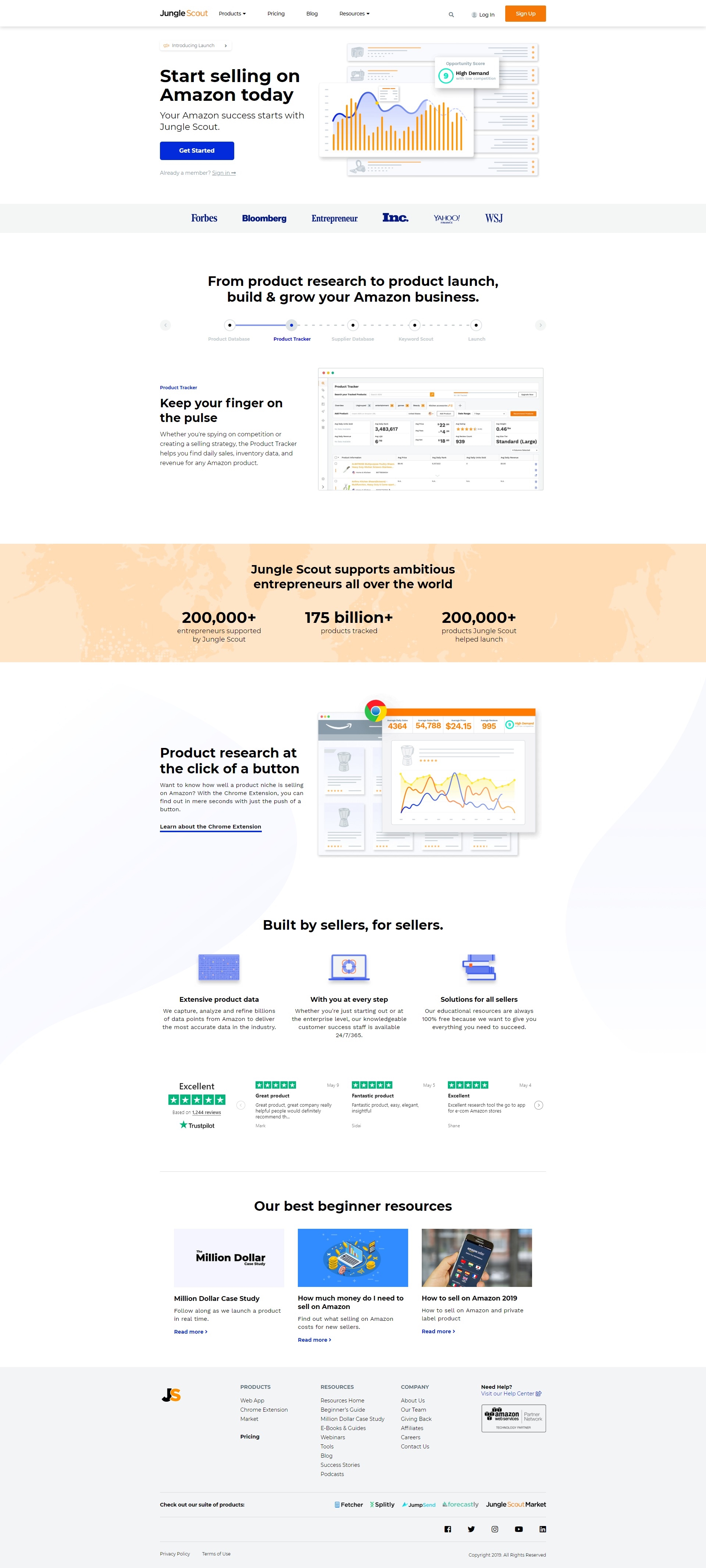 The front page of the JungleScout website, a ASM recommended tool.
Building your business with the help of the ASM course is not just going through the course materials (mainly videos and PDFs), you also need to start using all these tools and learn how to use them. Many of those tools are very easy to learn, but you will have to keep in mind that these things take a little persistence to learn the ropes.
The good thing about this course is that it does have the resources section with all the recommended tools, so you won't run into situations where you just don't know what to do now. The course is an almost complete template to start a business on Amazon but there are a few things missing in my honest opinion, which I will take up below.
Why We Recommend Amazing Selling Machine
Yes, there are other courses out there, a lot in fact. But when you are really looking at it, this company has been the trendsetter in the private label sector. It started creating this course a long time ago and it has been adjusting it all the time and it is also up to date. You have to understand that the Amazon game changes all the time and if you don't get the latest updates, your account might be at risk.
For instance, recently a little change in the terms of service of Amazon caused havoc because people were all of a sudden getting their accounts suspended. The team of ASM notified their client base and made sure all were informed on what to do to not lose their accounts.
This is just one reason why we recommend this course. There are plenty more. What to think about the 40+ hours of videos with very clear instructions of what to do every step of the way? When you start with an Amazon business, it is really important that you can find all the needed data fast and that it is visual.
Last but not least: We can also highly recommend this course because there are a lot of success stories that are on video and in writing from people that have been doing this course and had a lot of success launching their new brand and products. In fact, the amount of success stories is quite overwhelming when you look at it. Again, check them out below!
The Pros and Cons of the Amazing Selling Machine
There are a lot of pros and cons regarding this course, just like with any other course that you are doing or product that you are buying. The funny thing, when you look at pros and cons, is that nobody is ever mentioning that you have to define your own goals and intentions first.
Look, this is not a course for dabblers (and you can see that as a "con"

 ). It takes real hard work to create your own brand and for the sake of creating an honest "pros and cons" section, we assume you are willing to do all the work to make your brand a success.
CONS
Let's start with the cons and end with the pros. A clear con is the pricing if you don't have the money. It can be a challenge to get that amount of money together. We can only say that you can do several things when you don't have the money to buy the course: You can find a financial partner, or you can set aside the funds until you can get the course AND have about 5,000 dollars to purchase your first product and pay for some expenses that you will have (website, some paid tools, etc.)
Another "con" can be this: If you have studied big courses in the past and you never made it until the end, in other words, if you never finished anything, this is not for you. This is a 40+ hours video course with lots of additional PDF files that support the videos and if the idea of watching all those videos and reading those PDFs already makes you tired or frantic before you even started, skip this. However, if you can follow things step by step and never get impatient doing so, this can be for you.
The last "con" we want to mention is that when you are not an active person, this is not going to work for you. If you want to reach financial freedom, you won't if your Netflix is more important than your family. You need to move your *ss, so to speak!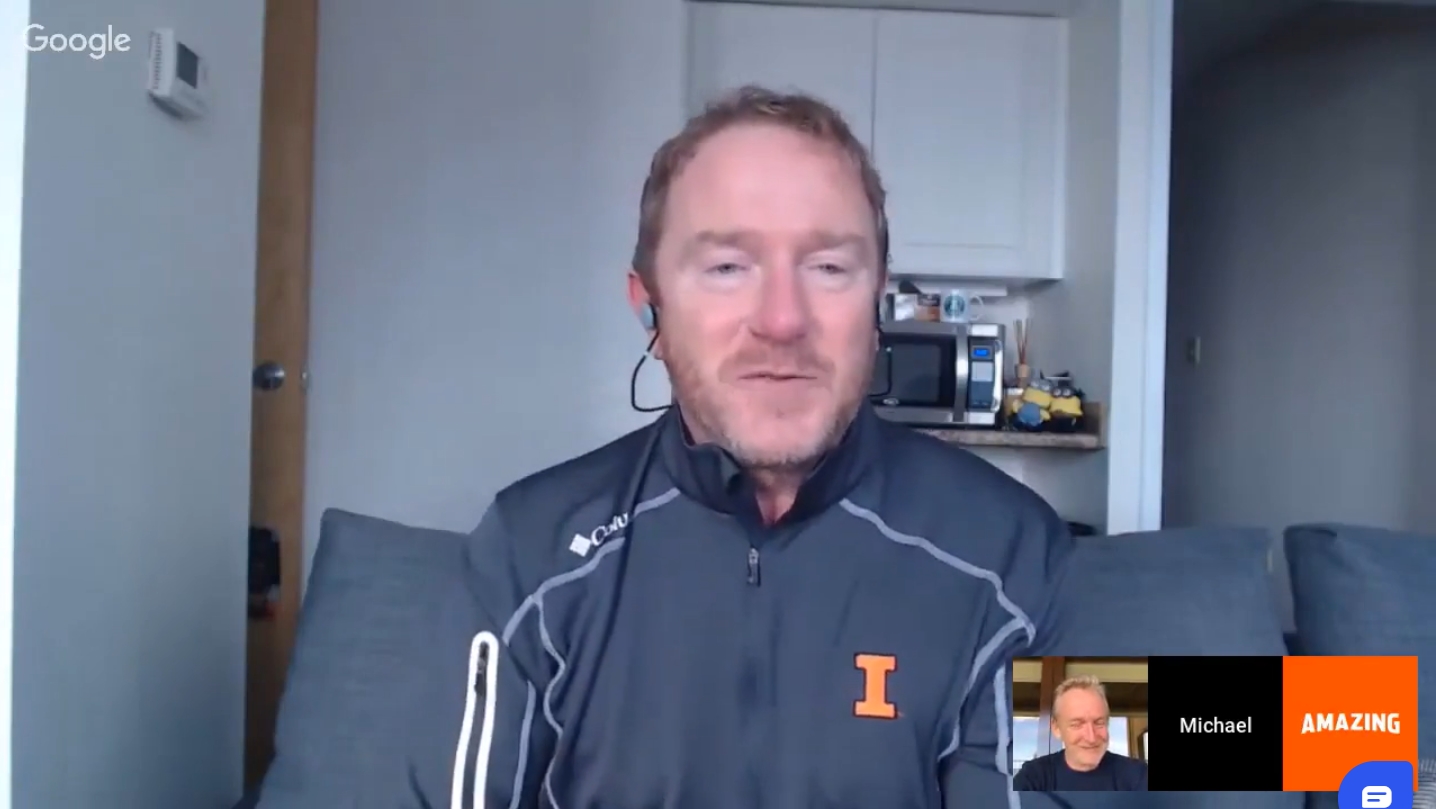 Screenshot of a coaching call with Mike McClary and Rich Henderson
PROS
Do you notice that the font size of the word "PROS" is bigger than the previous "CONS" above? It is done on purpose actually because we are strong believers in positive thinking and doing. If you only focus on the negative things in life, you will not get anywhere. So here are some "pros" of the Amazing Selling Machine.
This course is massive! It has over 40 hours of videos and numerous accompanying PDFs and other files that will take you through the process of building your brand from A to Z. Period. If you are able to follow instructions to a tee, the ASM course is something that will give you the opportunity to build your own brand and your own income source.
Another "PRO" is the massive community around Amazing Selling Machine. Through the years, 27,000 people purchased this course (and counting) and you will be able to interact with them through various platforms (like a forum, Facebook, ASM mentors, meetings, etc.). This is a big advantage over other smaller courses that do not have such a big and active client base. You will be able to ask like-minded people questions you want to be answered.
Also, Amazing.com has a very active customer service that is FAST! Believe me, you want a fast response when you are in the middle of a question you might have. Besides an extensive FAQ section in the course, there are also multiple employees online to answer your questions, many times within a few minutes. Personally, I think that is one of the biggest advantages of this course!
Another great feature of the course is the coaching calls. They keep doing them every month so you are always up to date with the latest greatest and you can always ask your questions and get them answered by the guys that deliver the course. Needless to say that you will also learn from questions that others have and get answered.
Last but not least, there is a 30-day money back guarantee so you are not at risk of losing your money if you do the things that you need to do but it just doesn't work for you.
Real Success Stories (Videos)
Okay, so now for the really good stuff. Below you will find some great (and some amazing) stories of people that have actually taken the step you are about to take and who got to do some pretty crazy figures in the process. Now, keep in mind the disclaimer, in some cases, these figures are not average but exceptional, but it is proof that Amazing Selling Machine is working for people like you. 
Amazing Selling Machine success story of Anica Kath (Mom with 2 kids)
Amazing Selling Machine success story of John and Stormy Collins
Amazing Selling Machine success story of Hutch Vogl (incredible story!)
Amazing Selling Machine success story of Devin and Katie Dorosh
Amazing Selling Machine success story of Lynette Cano
Amazing Selling Machine success story of Kennie Davies
REPEATED TYPICALITY DISCLAIMER: The ASM member's results may not be typical. ASM members joining between 2013-2016 who completed the program and launched a new brand had median annual revenue of $60,750.
Amazing Selling Machine FAQ
Does Amazing Selling Machine really work?
Yes, the Amazing Selling Machine really works, but of course, as with all things in life, you have to MAKE it work. The data in the ASM course is pretty much always up to date. That is a given and you may expect that from a course with that price tag. When you follow the modules and lessons to the letter and you APPLY the data, this course works. What we advise though, is that you work together with a spouse or partner, which will give you an advantage over somebody that has to do it all by himself.
How does Amazing Selling Machine work?
The Amazing Selling Machine course is a course that you follow for 8 weeks or at your own pace, whatever suits you. You watch the materials in video format with supporting PDFs that can be downloaded on the spot for your convenience. In these 8 weeks, you also do your action items, which are described in the course. You can contact support members if you need help, but there is also a big community where you can ask your questions to other members. The course is totally focused on getting you to launch your first product on Amazon and build a brand that you can expand.
Would you recommend Courses similar to Amazing Selling Machine?
Actually, we would, but we have to tell you that in the category Private Label courses, there are not a lot of courses as extensive as this one. JungleScout has a course but that is not as detailed as ASM and has a totally different structure. We love Greg Mercer and his videos though. These videos are entertaining but in our opinion not enough to make it all the way. Combining them would be the best probably.
Usually, we advise people to start with the Wholesale model and then we would advise the Expert University course. You can check out that course by clicking here.
Are There Any Alternatives to Amazing Selling Machine?
That is a good question to ask, but maybe you are not going to like our answer. Yes, of course, there are alternatives. But do we like them? Not so much. Amazing Selling Machine is the solid, reliable and always up to date course on doing Private Label on Amazon. The only thing we think comes close (but that is not a Private Label course but a wholesale course) is Expert University. The reason it comes close is that the owners are extremely successful Amazon sellers themselves that keep all content constantly up to date.
What about Amazing Selling Machine Results?
Amazing Selling Machine is a course that is sold to 27,000+ people all over the world. Of course, among these are people that hit a home run. As you can also see above, one lady there gets a badge for doing 100,000 in revenue that month. And many have done even more. The company Amazing itself has a disclaimer that states that ASM members that have joined them between 2013 and 2016 and completed the program, made a median annual revenue of a bit over $60,000 (definition of median: the median value of a set of values is the middle one when they are arranged in order). So half of the people did more and half did less… I'd say that that is a pretty good result and means you earn every penny back of your investment if you are in the upper half of the group of students. But it all depends on you and your efforts, of course.
What does Amazing Selling Machine cost?
The price of the full version of Amazing Selling Machine is $4997. Considering the aforementioned revenue that members are getting, this is money that you will earn back. And also don't forget this course is constantly updated, so you are always up to date with the latest information about selling on Amazon.
Is Amazing Selling Machine worth it?
Let me ask you another question instead: Are YOU worth it? Because Amazing Selling Machine is the Rolls Royce of Amazon courses and it has proven itself time and time again. Getting this course is rewarding yourself with the best business gift you can give yourself. If you look at the revenue numbers that are mentioned on the ASM website, it is very easy to understand that this course can bring you financial freedom if you follow the exact steps as laid out in this course. Sure, this is not a given and it depends on a lot of factors, but it is really just that: Can you follow steps that are clearly laid out for you in videos and PDFs? If you can answer that question with a "YES," then this course is worth every penny!
Is there an Amazing Selling Machine Webinar?
That depends on the time of the year, really. If there is one, you can find it on this page. If it is not available right now, you will find a lot of data on that page that is usually covered in a webinar. So you will find a treasure of data there anyway. 

Is there an Amazing Selling Machine Podcast?
There are quite some podcasts online about selling on Amazon, but as far as we know, other than the videos in the course, the ASM staff does not have an official podcast out there.
What Year did Amazing Selling Machine start?
As far as we know, the first course was issued in 2012 and it is constantly updated to the latest data about selling on Amazon.
Do you have any Amazing Selling Machine Success Stories?
As you can see on this page, we share a link to a lot of success stories of people like you that have done the ASM course. If you follow this link here, we advise you to check out the video success story of Anica Kath, John and Stormy Collins, and especially Hutch Vogl (that's quite a story!). And if you want more success stories about the Amazing Selling Machine course, scroll down that page and watch more.
What about the Amazing Selling Machine Customer Service?
Customer Service of Amazing.com is as good as it gets in our opinion. What we think is one of the most important criteria when it comes to customer service, is speed. And their customer service is lightning fast. We have had instances where it literally took only a few minutes before the assistant came online on the website itself to chat with us. Besides that, customer service is solution oriented, which we value as well. In general, their service to us has been really great. 
Who owns Amazing Selling Machine?
The owner is a company called "Amazing" which was founded by Matt Clarke and Jason Katzenback.
What is the Amazing Selling Machine Success Rate?
The company makes a statement on the website about this as a disclaimer, which states that students that did the course in full between 2013 and 2016 had a median annual review of $60750. Per the definition of median, half of those students made more in revenue than that amount in dollars. We think that this is a pretty good success rate compared to a lot of other courses.
Where can I buy the Amazing Selling Machine?
You can get the Amazing Selling Machine by going to the ASM website which is right here.
Is the Amazing Selling Machine legit?
The course is as legit as it gets. The course is online for many years now and 27,000 people have bought and done the course over the years. The only reason that many people invested in this course is because this is the real deal.