fba.cafe blog – create your future
How to Find Wholesale Distributors for Your Amazon FBA Business
There are a lot of ways to find wholesale distributors for your Amazon FBA Wholesale business. Below I want to go over a few of those, so you can choose which way is best for you, or maybe you want to use them all to get as many suppliers as possible to find profitable products to sell on Amazon. Needless to say, this post is about finding wholesale suppliers for your wholesale business, not for Private Label, which we might talk about in other posts. Just to make that clear. Now first, some general thoughts about finding these wholesalers.
What are You Really Looking for (and What Not)?
You always need to know what you are looking for when you are trying to find wholesale distributors. We've seen a lot of people starting with FBA wholesale and finding great deals from SKU lists, to only discover after the fact that they were losing money on refunds. And if you do not know what I mean, just ask several people in your environment what they do when they buy their clothes online, or their shoes.
Zalando, one of the biggest European retailers is having a serious problem with returns of clothing, which really kills their margins. You can read about that here. More and more, people start misusing the return and refund policies of Amazon and buy three pair of shoes to keep the one that fits best and sending back the other two pairs. Amazon keeps all their FBA fees, refunds two pairs of shoes and you as the wholesaler are the only one here that doesn't win. You have to ship them back to your home or warehouse (you pay the shipping) and then see if they can be still sold as new, if so, ship them back (again you pay the shipping), etc. So stay away from anything that has a size. You do not have to find wholesale distributors that sell shoes, apparel, etc., despite the fact that for some people this is working (mainly with t-shirts that have sizes like small, medium and large).
Another thing to be very careful about is variations (like, plastic cups being sold in 25 colors under one single listing), but since that is more of a purchasing problem, that doesn't have to stop you from finding suppliers that sell plastic cups wholesale. So figure out for yourself first if the things we mention above make sense, and then act accordingly. Define what you are willing to purchase and what not. An example of variations below, with marked in the yellow box the three variations.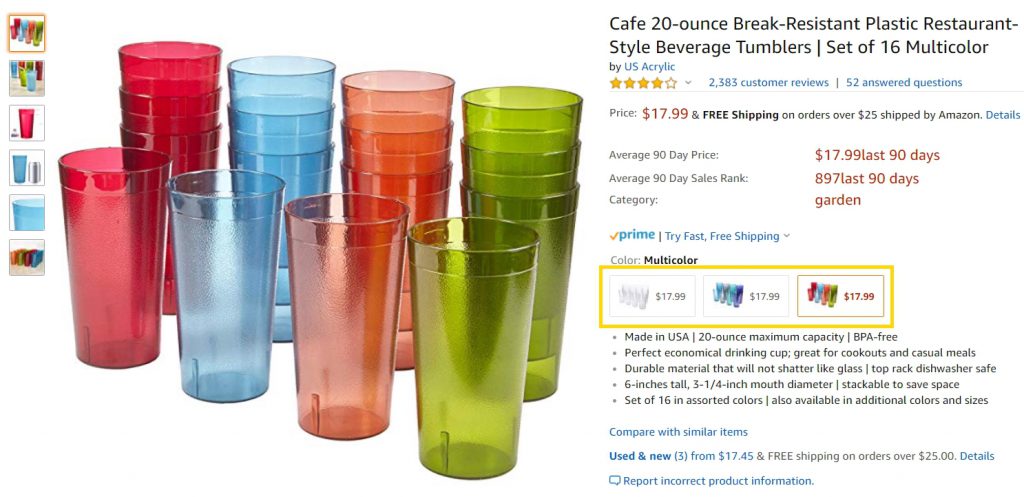 The point? Anything that has a size (apparel, shoes, but literally anything that sells at various sizes) you better avoid purchasing for your business when you start with the wholesale model. We also learned that the hard way. Especially women buy three sizes of a dress or shoes and send the rest back, leaving you with a loss. But recently I ran into a forum moderator that confessed that he always buys three pairs of the same shoes, keeps the one fitting, and sends back the other two pairs. So it is not only the girls that use this trick.
Other things to stay away from when you are starting out on FBA wholesale are Hazmat products (see our glossary for the definition of hazmat), products with an expiration date and stuff that melts easily in summer. When you are more experienced, you can look into the possibilities to sell such products, but when you start out, keep it simple, just stay away from the above products. Amazon has over half a billion products on their website, so don't worry that you'll run out of possibilities to sell stuff. As an additional word on hazmat, rumor has it that when you want to ship hazmat with FEDex,  you should finish an approval process first. So when you start with the FBA wholesale model, keep it simple.
6 Ways to Find Wholesale Distributors that Make You Money
There are numerous ways to find wholesale products from suppliers but we want to point out 6 ways we have used (and still use) to find companies that have SKU lists with wholesale items for you to purchase for your Amazon store:
1. Google Search
2. YouTube search
3. Working back from the Amazon product (see below)
4. Trade Shows
5. Branche Directories, Industry Federations, Associations, etc.
6. Secret way (you can register for free to see this ninja way of finding wholesale distributors)
Below we will go into more detail how you can use these ways to your benefit and find tons of good wholesale suppliers for your Amazon FBA business.
1. How to Find Wholesale Distributors Using Google Search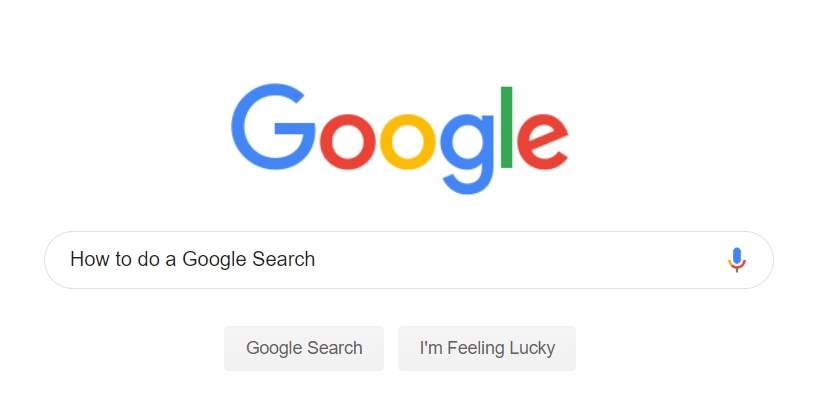 Probably the most obvious method to find wholesalers is a simple Google search. And I bet you know how to do a proper search if you have been around. But just in case you are not really familiar with all the options you can use when you do a Google search, this is a very good read on the time.com website. But if you want to dive right in, let's look at some search queries you can use to find some really good suppliers to purchases wholesale items from.
When you use the quotation marks in Google (basically the old +-sign, see here why) you basically tell Google that you want to search for an initial search query that must have certain words or phrases on the page of the query. So for instance, you can try the following (where csv is the Excel extension that is usually used by suppliers for their SKU lists):
wholesale "inventory" "download" "csv"
wholesale "inventory" "csv"
wholesale "inventory" "csv" "Michigan"
wholesale "inventory" "csv" "Queens"
wholesale "inventory" "csv" "New York"
wholesale "data" "feed" "csv"
Etc.
Now, you can get really creative on searches like this and I recommend you play around with it in Google itself. Believe me, you will get some great ideas when you start playing around with this. You can also use "xlsx" (another Excel extension that is also used) or play around with certain keywords of products that you are looking for. Although in the wholesale model, you are just searching for any product, with the exceptions mentioned above.
The Minus Symbol and Asterisk symbol in your Google Search
Now, let's say you don't want suppliers for apparel, as we mentioned above. Then Google gives you the possibility to use the minus symbol and you could do something like this:
wholesale "inventory" "download" -apparel
If you play around with this, you will notice that you want to exclude more and more. For instance, we always use exclusions like -co.uk -china -india and -alibaba because we want to find wholesale companies and products in the USA. By using the minus symbol, your search is really zooming in on what you are really looking for, so that is a way of searching you will find yourself using a lot. Other exclusions we regularly use are -salehoo -woocommerce -bigcommerce -shopify, etc., for the simple reason that we are looking for wholesalers, not websites that are built with woocommerce, bigcommerce or shopify (those are usually used by retailers) or wholesalers from Salehoo (that sells a list with wholesalers that everybody can afford, which means you are always dealing with a lot of competition).
Similarly, if you use a wildcard (the asterisk * symbol) you can have random text added to your search query, for instance:
wholesale "inventory" "download" pet*
So I hope by now you understand that you can go really advanced with this, for instance: -salehoo -woocommerce -shopify -bigcommerce "dropship*" supplier "wholesale*" "usa" "csv", etc. You can really go wild on these terms. Try it out and find a ton of wholesale companies. The only disadvantage of this method is that it takes a lot of time to find your companies like this.
2. YouTube Search
Searching on YouTube is similar to searching on Google (they are, after all, pretty much the same company), so we mention the possibility but the rules for Google as described above, pretty much also apply to YouTube. However, this is a slower way of searching and the quality is not always as good as through doing a proper Google Search. But if you play around with your search queries, you can find some wholesalers here that offer quality products.
3. Finding Wholesale Distributors by Working Back from the Product
There are a ton of products on Amazon that all have a certain Bestseller Rank. The lower the number of this rank, the more the product sells. So a Bestseller Rank with number 10,109 is better than a rank of 500,000. If you search Amazon and you find products that are somewhere between Bestseller rank 1,000 and 100,000 for the main categories you can try to find out where these products are coming from. So let's look at an example.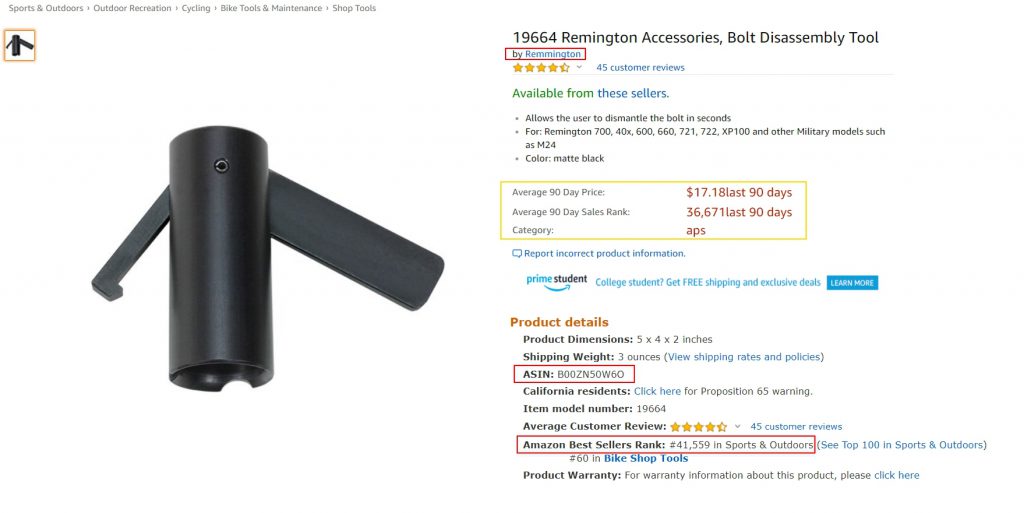 I just grabbed a random product from Amazon as you can see in the picture above. The red boxes indicate the brand name (Remington), the ASIN (B00ZN50W6O) and the Best Sellers Rank, which is 41,559 at the moment of I took the screenshot (Best Sellers Ranks change all the time during the day, I guess you understand that). The yellow box is probably not visible to you if you go to that page, because that is data I am getting because I use a Chrome extension called AZ 90 day. It shows me the 90-day average sales price and thus I can see if the product at the moment is being sold below or above the average sales price. If you want to use AZ tools as well, you can go here and add it to your Chrome browser. Another tool I use is Camel Camel Camel. You can add that extension by clicking here.
So, now I want to know who is distributing this product, right? I think this might be profitable and thus I want to check out who is selling this wholesale. So now there are several things I can do. Let's start with just searching for "Remington" in Google. The first website that comes up is the remington.com website, a website that sells Remington firearms and firearm accessories. So what I can do now is see if they sell wholesale and if they have a catalog. Usually, you find such data in the footer of a website. You can go to the contact page and simply contact them. If you want to know what is the best way to do that, you can find out here. Get your account set up and get your SKU list and get going!
But this doesn't end here. Now do a search for "Remington Wholesale" in Google. You will now get a whole bunch of wholesale suppliers that sell Remington, including the same brand name that is selling hair clippers and the like. Just add them to your list and contact these wholesale distributors and get your SKU list and run these lists through programs like AMZanalyzer or Wholesale Inspector to find your winners. You will be surprised how many extra distributors you will find in the process!
4. Trade Shows
The concept of trade shows exists probably since the ancient bazaars in the Old Middle East. It is the place for business to meet with potential clients and to showcase their goods. And if you want to find wholesale distributors, trade shows are an incredible resource to find them. Not only through the booths of the distributors itself, but also through talking to manufacturers and finding out what are their distribution channels. But now we are talking about actually visiting a trade show, but what if you are living on the other side of the planet? How do you benefit then from trade shows and how do you find your potential suppliers then?
There are tons of trade show websites. And one way to find all of these is to go to a website called ExpoDatabase.Com. See the pic below.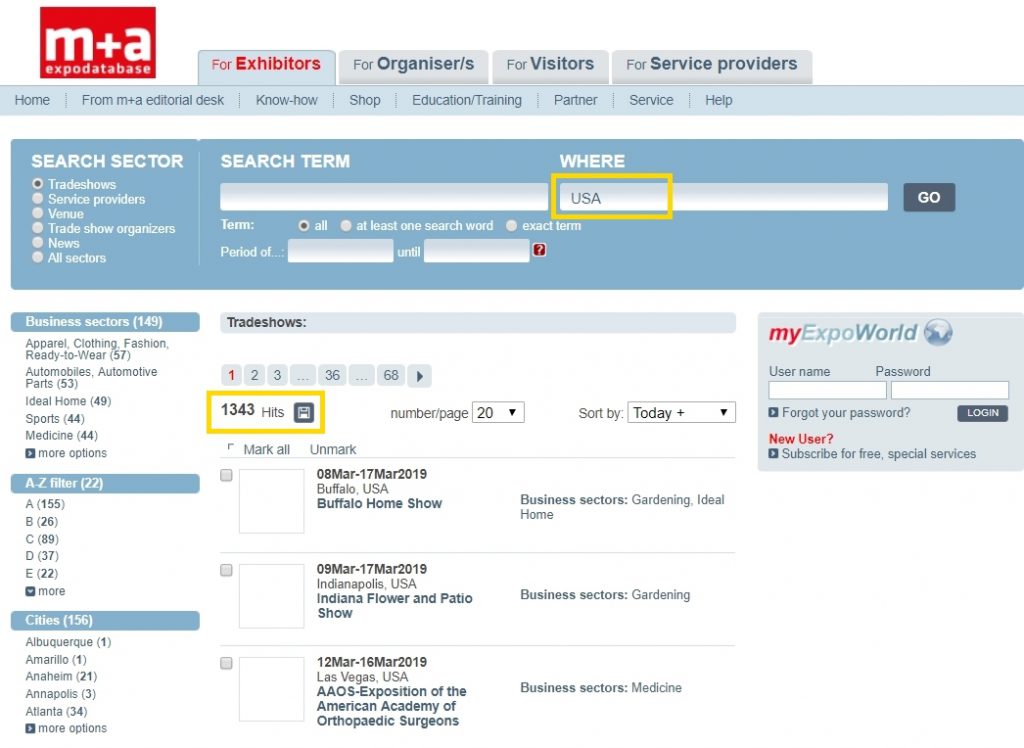 You see that in the "WHERE" box I typed "USA" and if I search with just that, I am getting 1343 hits. So you can now start drilling down and find all the websites that are associated with these trade shows and then you want to look for an exhibitor list on their website. I give you an example here below, where you can see part of a typical exhibitors list with Exhibitor Name, Booth #, a link with additional info and more for your convenience: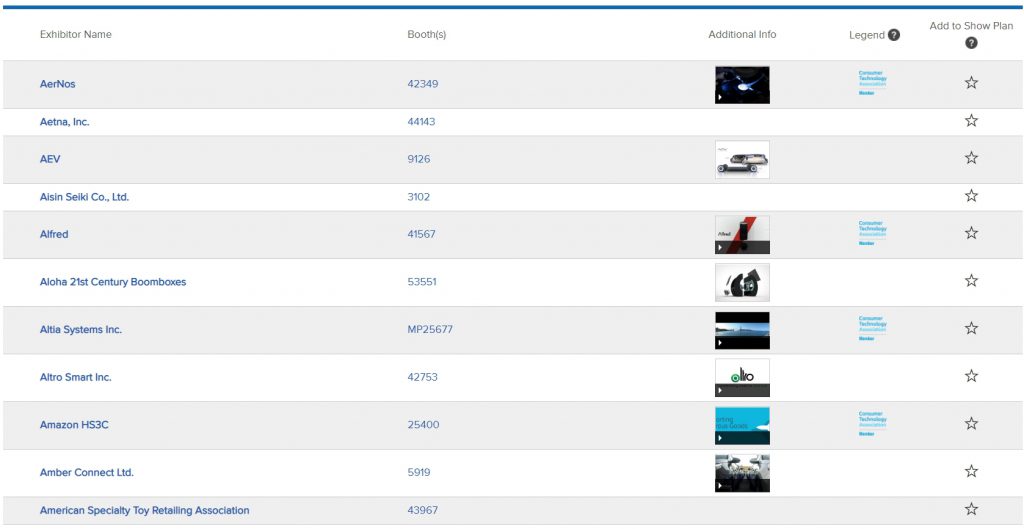 While this is a very laborious process, it will give you a lot of manufacturers and distributors (and for some trade shows a lot of closeouts and liquidator suppliers) that you can work with. And remember, you build a relationship with these guys so if you spend some time on finding them, it might all pay off in the future. And if you have a Virtual Assistant, you can get him or his to do this for you. Define which companies you want to add to your list of wholesale distributors (for instance, all within the USA so you do not add any supplier from abroad) and get going!
5. Branche Directories, Industry Federations, Associations, etc.
Another very interesting option to find wholesale distributors is to do a search for Branche Directories, Industry Federations, Associations, etc., on Google. For instance, you could find all kinds of wholesalers of pet supplies by doing a search for pet industry associations, etc. While this will take you some work to find the really good lists of companies, when you find them you will have put your hands on really good and legit wholesale companies.
6. Our Secret Way of Finding Wholesale Suppliers Online

These were 6 ways of finding new distributors. Again, there are many other ways, but if you master these 6 and really work on them, you will get yourself quite some distributors that you can contact to get their product list that you can research for profitable wholesale items. So, time to get active and DO THIS!