fba.cafe blog – create your future
Wholesale inspector reviewed by an actual user
When you are selling on Amazon FBA and you are selling wholesale, you are dealing with a lot of SKU lists from distributors and suppliers. You need to analyze these and there is nothing more frustrating than analyzing the software that takes hours and hours to run your lists. If you are using such software, you know what I am talking about. Finally, we found a great piece of analyzing software and use it every day to analyze products. Here is our review of a great new player in town: Wholesale Inspector, created by partners Chris Keef and Todd Snively from Ecomm Elite and Expert University.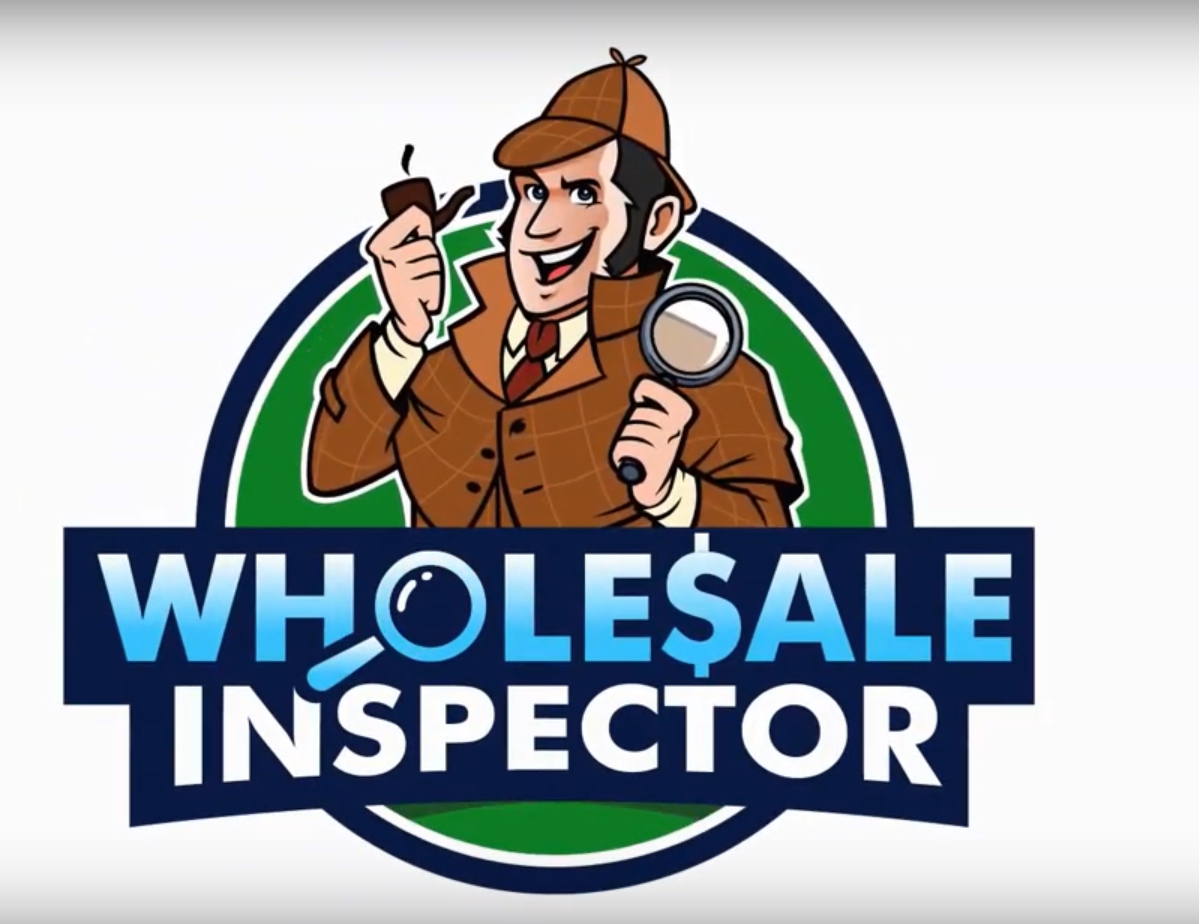 SKU lists come in all sorts and sizes. We are dealing with a lot of distributors and suppliers and they all have their own ideas about putting a SKU list together. Some are smarter than others and know what FBA sellers need to analyze a product list. Others have no clue and make a dog's breakfast out of their SKU list. We have seen it all, from multiple tabs in Excel files (useless to us analyzers) and totally mixed up columns with UPC codes and supplier SKUs all mixed up. 
Now, when suppliers really mess up a SKU list, even Wholesale Inspector has a problem running these lists, but anything that looks vaguely decent, will pass the test and will run in this awesome piece of software. It blows any similar software out of the water when it comes to speed. In the beginning, we tested a file that took over 4 hours in a competitive piece of software which took Wholesale Inspector 1 minute and 5 seconds to analyze. Oohrah!
The people behind Wholesale Inspector are long term business partners Chris Keef and Todd Snively who run an Amazon business themselves (and are pretty successful I might add). Todd is actually the one that coined the term Buy Box and was the first to use it as such. So they know what they are doing and they know what is needed and wanted when it comes to FBA and selling on Amazon. They run their business from a warehouse in Wixom, Michigan. We are clients of that company and are with them for quite some time already. 
What does Wholesale Inspector do?
Wholesale Inspector takes a SKU list from a supplier and runs it against the Amazon web store. That is the short version. We don't have to go into it a lot deeper, other than to say that it will analyze a whole list of SKUs, even if there are 100,000 on the list, and after analyzing gives you the following data:
Identifier: this is the UPC code of the product. For anybody who runs Excel spreadsheets through analyzing software, you know that the UPC is always a bitch and shows up looking something like 7.39E+11 (which is called a scientific notation as far as I know). You'll be happy to know that the UPC codes in Wholesale Inspector actually show up as UPCs. Again Oohrah!
Cost: the cost of goods that you have to pay your supplier.
Supplier SKU: the notation that the supplier uses to identify a specific product in their inventory system, usually something like a number or a combination of numbers and letters. For instance, AM127693.
Supplier Title: the description of the supplier of the product. Usually a few words, but some suppliers really go overboard here and tell you the whole history of a product as well! 🙂
Supplier Discount (percentage): the percentage of the discount from your supplier, if you had defined that before you started running the file. This is a parameter you have to enter when you upload the file in Wholesale Inspector.
Supplier Pack Quantity: the actual amount of products in one packaging from the supplier. If this is higher than 1, we speak of a multipack.
Amazon Pack Quantity: the actual amount of products in one packaging from Amazon. If this is higher than 1, we speak of a multipack.
Image (link): the link to the main image of the product used on Amazon. (See pic below, in the orange box.)
Amazon Title: the headline as seen on the product listing on the Amazon website. (See pic below, in the yellow box.)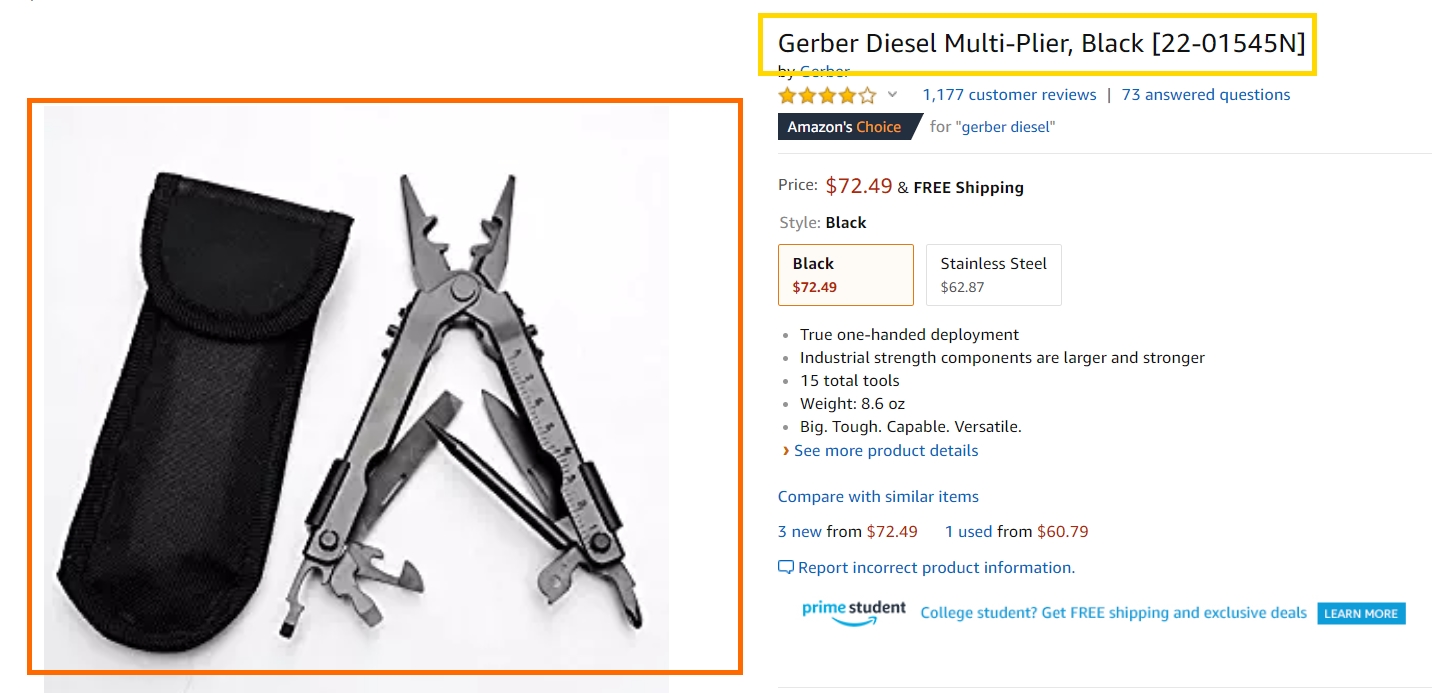 ASIN: Amazon Standard Identification Number, unique blocks of 10 letters and/or numbers that identify items on Amazon.
Total Cost: the total cost for you to purchase a single product is the cost of goods minus any discount of the supplier.
Buy Box Price: the price in the Buy Box that a customer is charged for his purchase.
Profit (amount in $): the amount that is left over after all costs are deducted.
ROI (percentage): Return on Investment, here is a good article about how to calculate your ROI.
Margin (percentage): the percentage of revenue remaining after all costs, depreciation, interest, taxes, and other expenses have been deducted. The formula is: (Total Sales – Total Expenses)/Total Sales = Profit Margin.
BSR: short for Best Sellers Rank. The lower the BSR, the better a product sells on Amazon. 
Category: the product category of the product that is analyzed, for instance Home Improvement or Toys, etc.
Is Top Level Category: (True or False) this is an indication if a BSR is for a top level category or not. If it is not, the BSR is not valid for the top-level category and will sell less than expected from a top-level category.
Number of Sellers: the total amount of sellers, FBA and FBM.
Estimated Sales per Month: the number of sales for the product that a program like JungleScout predicts by using several parameters in their software.
Competitive Sellers: usually, the amount of FBA sellers.
Share of Units per Month: the number of products that a program like JungleScout predicts you will sell, which is the total amount of predicted sales divided by the number of Competitive Sellers.
Share of Sales per Month: the amount of products in dollars that a program like JungleScout predicts you will sell, which is the total amount of predicted revenue divided by the number of Competitive Sellers.
Share of Profit per Month: your share of the amount of revenue a product make a month.
Weight (pounds): the total weight of the product.
Length (inches): the total length of the product.
Height (inches): the total height of the product.
Width (inches): the total width of the product.
Size Tier: a special category for products. Read more about it here.
Inbound Shipping: a setting in the "options" of Wholesale Inspector that can be set. You define the Inbound Shipping Rate ($ / lb). You define this yourself before you run the software. If you do not set it, it will automatically show as 0.
Prep Cost: a setting in the "options" of Wholesale Inspector that can be set by yourself and reflects the average costs you make for a single product in a prep facility.
Storage Fees: the storage fee is calculated based on the daily average volume (in cubic feet) of storage space your inventory occupies in Amazon's fulfillment centers. Amazon alone owns the calculation used to determine the fee you will pay, and they even specify this in Seller Central.
FBA Fees: this is your entire pick-through-shipment fee and includes order picking and packing, shipping cost, packing boxes, and inner packaging. It even covers returns processing, though not for items in categories with free customer returns.
Referral Fees: the referral fee is a fee Amazon charges you every time you sell a product. It is a percentage of the total sales price and is usually 15%.
Net Revenue: the Buy Box price minus FBA fees and referral fees.
Keepa (link): a program that shows (among other things) price and Buy Box history of a product. Keepa used to be fully free. It has a paid version since 2019.
CCC: (link) refers to Camel Camel Camel, a program that shows (among other things) price history of a product.
Add to Seller Central (link to directly add to your account): a clickable link that takes you directly to your Seller Central account if you are allowed to sell this product and add it to your inventory.
Flags: any things that you need to be aware of.
Yes, an impressive amount of data. If your original SKU list you received from your supplier would just have UPC codes, price and supplier SKU, you would still get all this data back online or in a downloadable spreadsheet (Excel). See the picture below for an impression of what you get when you use Wholesale Inspector.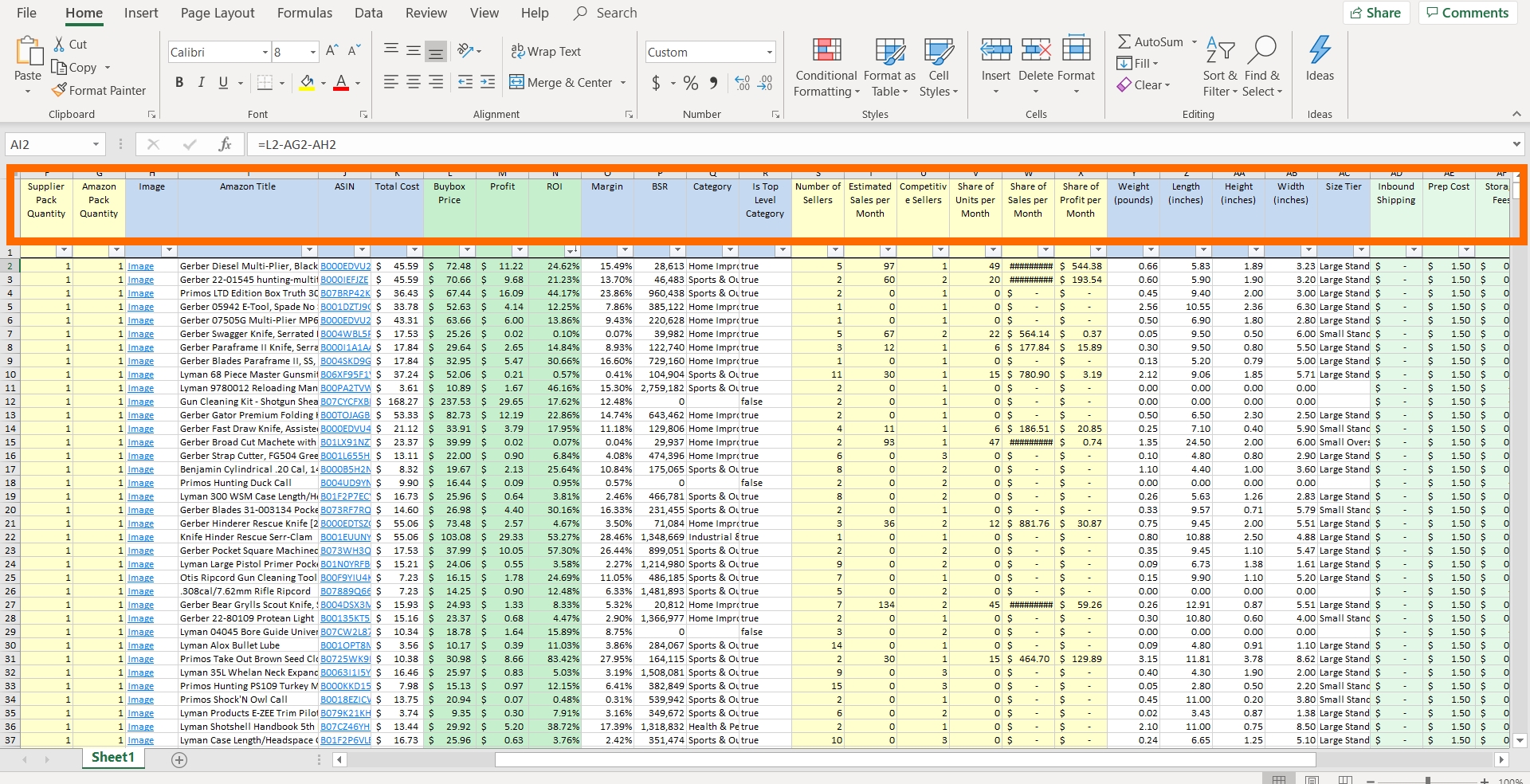 The Advantages of Wholesale Inspector
Besides the fact we already mentioned that Wholesale Inspector is lightning fast, it is also very easy to work with the data. The software can be used as an online-only solution, but you can also download an Excel spreadsheet with the data and personally we prefer that option. If you are used to Excel and the possibilities of using filters in Excel, it becomes a breeze to work with and find profitable products.
But there is more. One of the features we really love is that you can upload a SKU list and have it rerun every day, so you always have the most updated data at your disposal. Of course, a SKU list might get outdated and then you would have to upload a new one, but uploading a new file is a piece of cake.
In the options of the program, there are several cool features as well. You can define a product that is marked as out of stock on the SKU list and exclude it from the results. Very handy. If you have ever tried to purchase products that were out of stock before, you know what I mean. It is just a waste of time. Wholesale Inspector gives the option to not run those products through the software.
There are several features still in beta, but they look promising and include pulling historical data, using an average BSR, using average price, among other features. You can also receive an e-mail whenever your lists run in the background and are done. And knowing the two owners of this piece of software, we can expect more features in the future.
Wholesale Inspector compares to its competition as an F-35 fighter jet to a T-Ford. The difference is that big. It is about 3 times the price of their "competition" but what you get for that money can not be described in dollars. It is just a league of its own.
We took Wholesale Inspector for a spin and made an extensive video of the program. If you want to check it out, you can by signing up for free and watch it below.
IF YOU ARE NOT LOGGED IN, YOU WILL NOT BE ABLE TO SEE THE FOLLOWING SECTION. REGISTER FOR FREE HERE AND THEN RELOAD THIS PAGE.
Disclaimer: This page contains one or more so called affiliate links. If you click one of these links, you are taken to a page that contains a product that we endorse, for the simple reason that we work with it ourselves and/or have identified it as a valuable product or resource that we want to recommend to our readers. If you buy such a product through the link on this page, in most cases (but not always) we will receive a commission from the owner of that product and we want you to be very aware of that. Since we value our own integrity, we will not recommend "crap" just to make a quick buck. We stand for what we recommend and we are very careful to keep our good reputation. Therefore we say: When you decide to buy a product we recommend, always be your own advisor and be aware that we might make some money because of your purchase on that other website. We hope though, that you understand that we also need to make a living and we thank you if you decide to support us by purchasing through our links on this website. While we have to notify you of this fact because of FTC regulations, we would notify you even if such a regulation was non-existent. We believe in being transparent and informing you of such a fact. Do well! – The FBA.CAFE Team